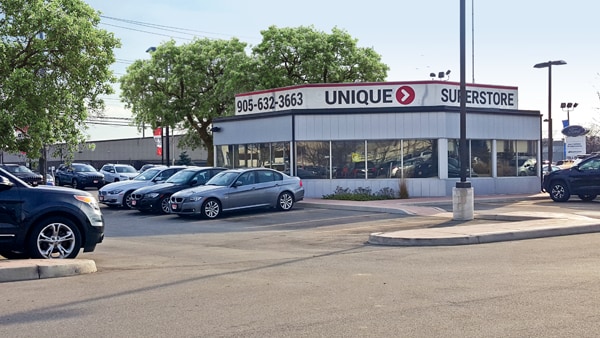 Unique Superstore, located at 880 Walkers Line in Burlington, ON, is your premier retailer of pre-owned used vehicles. We opened our doors in June of 2015 and since then our dedicated sales staff have been dedicated to making your auto shopping experience enjoyable and haggle-free. Unique Superstore proudly serves the Burlington, Oakville, and Hamilton area.
No-Haggle Pricing
Why do we follow a no-haggle pricing policy? No-Haggle pricing came about as a response to feedback from customers from other Car Nation Canada dealerships who expressed that the part they dreaded the most about the car-buying process was the pressure to haggle the price of the vehicle.
Unique Superstore is a proud member of the Car Nation Canada dealership group, based out of Burlington, Ontario.  
What is Car Nation Canada?
The Family of Automotive Dealerships now known as Car Nation Canada has become one of the largest automotive groups in Ontario. Their growth has been accomplished by unifying the sales process of the automotive-buying experience across all dealerships in the Group. This ensures that exceptional customer service is experienced by anyone and everyone that walks through any Car Nation Canada Dealership door, no matter where they are located. 
Car Nation Canada has carefully considered who they are and how they wish to be perceived by the car-buying public. Today's car buyer has done their research and is much more informed than ever when they make their purchase.
Car Nation Canada understands the importance of making an informed decision. Our mandate is to become the market leader in providing resources that will help consumers make better purchasing decisions.
Message from the President & CEO....
"Over the years, we've grown as an automotive group and we have our customers to thank for it. We don't take our past or future for granted and we strive to be better every day. As the business changes our goals evolve along with it, so your feedback is very important to us. As one of the largest automotive groups in Canada, we are passionate about our business and we want you to feel the same passion."
Rick Paletta, President
Come in and experience the Car Nation Canada difference today!